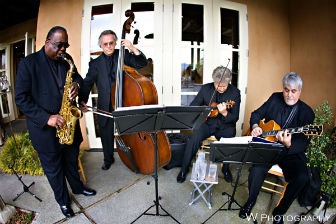 CARL VAST SOLO/DUO/TRIO/QUARTET
From softly swinging "dinner jazz" to vibrant dance and concert performances, guitarist Carl Vast delights audiences throughout the San Francisco Bay Area and Wine Country. As a soloist or with his diverse groups, Carl's distinctive style and rich repertoire bring memorable music to each event.
Solo Guitar:
Carl performs a dynamic mix of jazz, Bossa Nova, blues, swing, classical themes, standards, original compositions, ballads, Country and folk/rock on electric and acoustic guitars.
Guitar Duo: 
Great standards, current hits, Bossa Nova, rock classics, cool jazz, classical themes. All performed with a playful interchange of melody and rhythm.
Carl's Jazz Trio (guitar, sax, bass) plays mainstream jazz, Bossa Nova and swing, emphasizing intuitive ensemble music.
The Carl Vast Quartet (guitar, sax, bass and drums) engages concert audiences with compelling presentations of jazz heritage. For social or corporate events, the Quartet also offers dance grooves and background jazz.
Solstice (flute, guitar, cello) performs a wide range of popular, jazz, ethnic, wedding and classical themes as background or featured music.