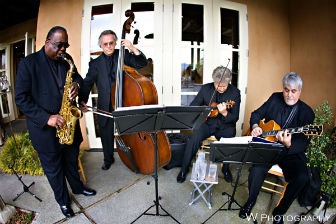 CARL VAST TRIO/QUARTET
From softly swinging "dinner jazz" to vibrant dance and concert performances, guitarist Carl Vast delights audiences throughout the San Francisco Bay Area and Wine Country. As a soloist or with his diverse groups, Carl's distinctive style and rich repertoire bring memorable music to each event.
Groups:
• The BBC Jazz Trio (sax, bass and guitar) plays mainstream jazz, Bossa Nova and swing, emphasizing intuitive ensemble music.
Since 1984, the Trio (Bob Drew, Bill Fouty and Carl Vast) has continued to define its style and expand its repertoire.
• The Carl Vast Quartet (guitar, sax, bass
and drums) engages concert audiences with compelling presentations of jazz heritage. For social or corporate events, the Quartet also offers dance grooves and background jazz.
• Bel Canto (flute or viola with guitar and bass)
performs a wide range of popular, jazz, ethnic and classical themes as background or featured music. By adding saxophone, the trio becomes a quartet delivering eloquent harmonies and great versatility.