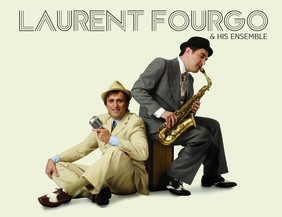 LAURENT FOURGO & HIS ENSEMBLE
THE COMBO:
Our repertoire is musically diverse. In addition to performing many American Jazz Standards (Swing, Bossa Nova, Ballads), we also perform French & Italian favorites that have been popularized by Frank Sinatra, Michael Bublé, Bobby Darin, Tony Bennett, Diana Krall, and Dean Martin among others.  This is an especially flexible and elegant configuration that features 1-8 musicians, and may be performed with or without vocals. Size of the band, music style and attire can be customized to fit your budget and party theme.

FLASHBACK:
Flashback is a 6 piece band performing timeless Jazz Standards and favorite dance hits from the 20s through the late 70s that audiences around the world enjoy!  The band size can be increased to a 9 piece band by adding our 3 horn section (trumpet+sax/clarinet+sax/flute)  Laurent brings his crooning, smooth vocals to these standards made famous by artists such as Frank Sinatra, Dean Martin, Bobby Darin, Nat King Cole, and more recently Michael Buble. He will have you twisting and shouting with some Rock'n'Roll, Classic Rock, Pop and Disco hits!  Joyce brings her sultry voice, charming personality to not only the Jazz Standards, but also to the Motown/Soul/R&B, Rock and Disco repertoire.  The rhythm section includes Doug on the piano, bass player Tom, versatile guitar player Mark, and the incredible Bill on drums; some of the best musicians in the Bay Area.  Flashback covers hits from 1920 through late 70s which includes swing/jump swing. bossa nova, early rock'n'roll, classic rock, pop, blues, motown, soul, old school R&B, funk, disco and a lil bit of country.  Ageless, passionate performances of the immediately recognizable vintage/retro favorites guaranteed to please any audience!