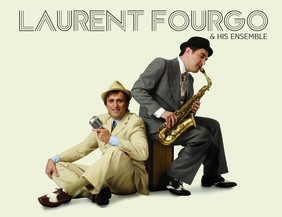 LAURENT FOURGO & HIS ENSEMBLE
Hit Waves Unplugged: is a one of a kind acoustic combo in Northern California: it started as a duo, acoustic guitar and upright bass. We then added a male vocalist, a female vocalist (click here to listen to some of her samples) , reeds (sax, clarinet, flute) and drums/percussions.  Hit Waves Unplugged perform the hits from 1920 to 2016 in an acoustic ("unplugged") version. The band performs hits from Frank Sinatra/Ella Fitzgerald to hits from Michael Jackson/The Beatles/Police/Eric Clapton/Cindy Lauper and so many others.  We also perform your favorite wedding ceremony songs (classical music).  Interpreting today's hits in classic styles, Hit Waves Unplugged takes you on a genre-bending trip across continents and decades. Bruno Mars in 1930's New York? David Bowie in '40s Havana? Madonna in '50s Vegas? Acoustic virtuosos seamlessly integrate authentic Parisian Jazz, sensuous Rio Bossa Nova, and genuine American Swing to turn heads and win applause.
THE COMBO: Our repertoire is musically diverse. In addition to performing many American Jazz Standards (Swing, Bossa Nova, Ballads), we also perform French & Italian favorites that have been popularized by Frank Sinatra, Michael Bublé, Bobby Darin, Tony Bennett, Diana Krall, and Dean Martin among others.  This is an especially flexible and elegant configuration that features 1-8 musicians, and may be performed with or without vocals. Size of the band, music style and attire can be customized to fit your budget and party theme.

Vintage Jukebox: is a 2 – 6-piece swing era big band (2-5 musicians + 1-2 vocalists) comprised of some of the finest jazz musicians in the Bay Area and is one of only a handful of professional big bands in the U.S. focused solely on the music of the Swing era (early 20's-early 60's). The group plays tunes made popular by the famous Orchestras of Count Basie, Duke Ellington, Benny Goodman, Jimmie Lunceford, Fletcher Henderson, and Artie Shaw  as well as the songs of Frank Sinatra, Dean Martin, Sarah Vaughan, Ella Fitzgerald to name just a few.  Their repertoire includes an extensive catalogue of standards from the Great American Songbook, featuring the works of legendary songwriters: Irving Berlin, Cole Porter, Jerome Kern, Rodgers & Hammerstein, Cahn & Van Heusen, Julie Styne, the Gershwins and their peers. This truly is a band not to be missed!